I picked up a Bass Tracker V17 today for a thousand bucks. It wasn't perfect, but I felt I got my money's worth. It's very much like a 16 ft. vhull with completed mods, but I think it can be improved. We'll see.
I've having trouble resizing the pics my wife took with irfan. When I figure it out, I'll post them, but for now here's images from my "should I buy it?" post: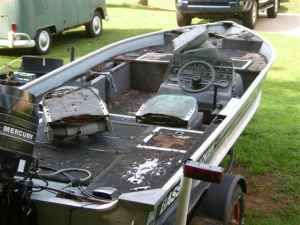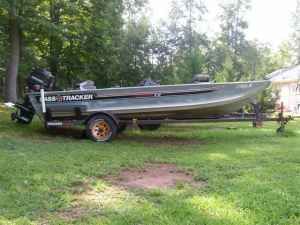 If anyone knows anything about the motor or any controls when I post them, please let me know. I'm wanting to get manuals, etc. Here's the stuff that came with it for posterity:
1986 Bass Track V17 SN: BUJ58352F686
1986 Bass Tracker Trailer SN: GA001377
1986 Mercury 75 HP motor with tilt and trim SN: 0A994929
1986 Minn Kota Model 565 28 ft.lb. ft. controlled trolling motor SN: 122521
1986 Hummingbird LCR2000 SN:993862 (I think this is a flasher, but I'm not sure.
)
2 of restore-able condition 6 gallon metal gas tanks
According to the owner's son (Original owner has passed.), the motor had been put up with "dry" carburetors last he knew, so hopefully he's right and that's good. I did see evidence under the motor's cowling of a dirt dobber's nest, with some wiring damage from the dirt dobber's mud (dirt dobber - name for a wasp that makes it's nests with mud and tend to put them in awful places like garage/carport walls and inside of boat motors) causing corrosion. With my background, rewiring things isn't a big deal.
I've decided to have the local marina check the motor out for me and let me know if it's worth reworking. I figure if the engine turns out not to be good either top or bottom, I can part out or sell the motor and have a good start on a new motor.
The steering wheel is faded and feels powdery/nasty and if I can't get it cleaned up, it'll need replacing. The good thing was the steering cables still moved freely, though I could tell they needed cleaned and fresh grease applied.
The acceleration controls (don't know the proper name) were dirty, but the cables and controls felt okay and didn't show the typical sun fading wear. I think they'll clean up okay.
The trailer looks like it's got several issues - winch, wheel bearings, dry rotted tires, short front, rotted stepside wood, etc. It'll need cleaning up, repainting and the typical refurb., but it's fundamentally sound with more surface rust than real structural problems. It does need new bearings and I suspect the guy drove it without bothering to grease the hubs. I'll replace the bearings and races during the refurb.
The front deck is wood and is basically rotted to nothing. My biggest concern is figuring out how to disassemble without damage to anything useful. The middle deck is also wood and is rotted as well, but not quite as bad.
The rear deck appears to be aluminum and may be supported by some plywood, hard to tell. I'm going to have to get into it more to figure out what to do to fix that.
All the seats are shot, but the aluminum hinges on these 1986 seats are much heavier than what they sell today. I'm considering stripping the good parts off and rebuilding these seats myself. I can shape the plywood seat bottom and back and replace the foam. The only thing needed then would be the plastic coverings. May be cheaper than buying new. Have to figure that one out.
A lot of the hatches have aluminum backed with plywood. I'm probably going to keep these and redo them, perhaps with some other material in place of the ply. Have to think on this one.
Lots of work to do and need to take pics of the boat before rework so I can remember how things were built down the road.
I'm excited and am starting the strip down tomorrow. Wish me luck.
I'll get more pics up when I figure out what's wrong with the resizing. I'm getting a "can't shrink this pic down this far" message.