I picked up this boat and trailer at the start of 2010. I did a quick and easy mount of the trolling motor, ran some wires and fished it hard last year. Now it is time to rebuild this boat.
The plans are to replace all the wood in the boat with Jatoba (Brazilian Cherry Wood) - It is a very hard wood and I am using it because it was available at a great price. I am also stripping the paint and plan on using steelflex for the bottom but have not decided how to paint the above water portion or the inside yet. I will be putting in a shallow floor in the bow and adding a top area to mount the trolling motor again. I would Also like to enclose the area behind the back bench now that i have a duel bank charger to install.
This is the boat with last years addition of the TM. A few things i want to improve on is the TM mounting, Installing a floor and getting the fuel away from the battery.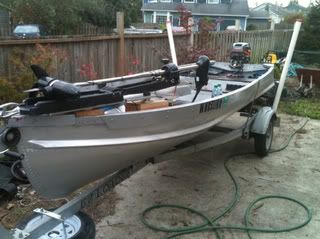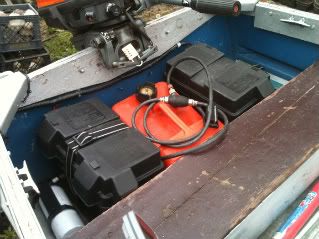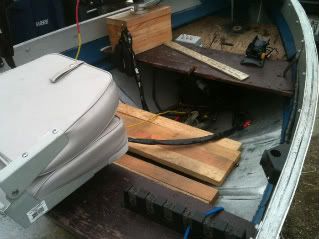 Here are some recent photos of the boat striped of all things that attach to it. The previous owner put a lot of holes through the gunnel. As a result i am in the process of patching them with epoxy putty while preparing the wood.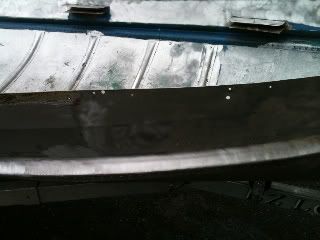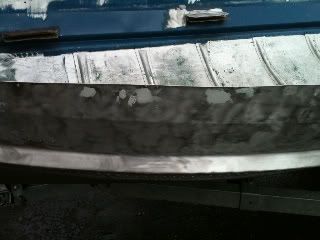 I have been using a wire cup & wheel on my drill to remove the previous coats of paint, but i do not like the pattern that technique leaves behind. I will most likely be running the first part of the season with no paint on the boat. From advice I found here on tinboats, i will be using a scotch pad on my orbital hand sander. I have used it on a test area and like the results.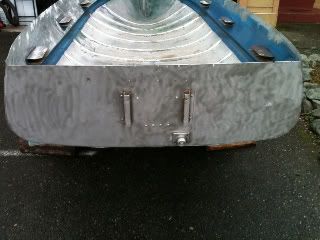 I will post more as I continue to work on the project. I have a mid April deadline, but i need to get out and fish way before that.