Here is the long winded story leading up to this whole thing. It's boring so you might want to skip it and just jump to the pics.
I hadn't really planned this but now I've got it so here we go. A buddy of mine went to an estate sale and bought a lake house. Included in the deal was this 1977 model 1538 Fisher Marine Water Rover. I told him I might be interested in it so he told me to take it home. It has a 75 model 20hp Mercury with electric start and a 40# Minn Kota trolling motor. Neither of which was working and the outboard was mostly in pieces in the back of the boat.
I decided to tackle the trolling motor first, figuring the outboard was probably a basket case. After some initial testing, I found that there was no power getting through the foot control. I pulled it all apart and cleaned all the contacts and wire connectors. Everything tested good with my meter so I put it all back together. Yeah!!! I've got a fully functional trolling motor now. The mount for the trolling motor had the top ripped off, and they had stacked some 2x's in between the aluminum side plates and run wood screws through everything. I removed all of that and after some deliberation set about trying to fab something up. I ended up using some 1/8" aluminum plate to make a new top and back for the mount and got it mounted.
On to the outboard. I tried to find a factory service manual but couldn't located one so I grabbed a Seloc manual from Ebay. It was a tiller model that had been converted to remote. The previous owner, in his haste to convert it, cut the tiller mount bracket off with a hack saw.
It was already in pieces and I didn't know how long it had been sitting, so I pulled the carb and fuel pump. I was surprised to find they looked pretty good inside, but I cleaned a little on them any ways and reinstalled them. The starter motor was hanging by it's power cable, so I pulled it off and tested it. It was working so I lubed the bendix and reinstalled it, only to find out the solenoid was bad. After installing a new solenoid it was working fine. At this point, I decided I could test the compression even if it was on a cold motor. 105 on both cylinders so I was in luck there. The insulation on the internal wiring harness was cracking pretty bad and new ones are $175 +, so I rebuilt that. The recoil starter was hanging up and wouldn't recoil. I pulled it apart and after a lot of cleaning and some lubrication, got it working good. After figuring out how to reassemble and adjust all of the remote throttle linkage, I decided it was time to throw some new plugs in it and see where I was. It fired up after several attempts, and after some adjusting here and there, I've got it starting on 2nd pull with a cold motor.
At this point I decided it was a keeper. I go back out to my buddy's house and tell him I'm keeping it and ask him how much he wants. As it turns out, he's been eyeballing a deer rifle of mine, and that it would be a good trade. Done and Done!
Now I'm anxious to get it in the water to see how the motor preforms, but more importantly, see what sort of shape the boat is in as far as leaks or any other problems. I got the boat registered to make it legal and took it to the river. It's a little slow getting up on plane and will only make 21mph but it's a start. During my testing I decide to go WOT at the start and discover I mostly likely have a spun hub. Now I know why there was an extra prop laying in the boat.
If you've made it this far in my long winded first post about this boat, it's time for some show and tell.
Here is the trailer than came with the boat, that now has my 12' Gamefisher sitting on it.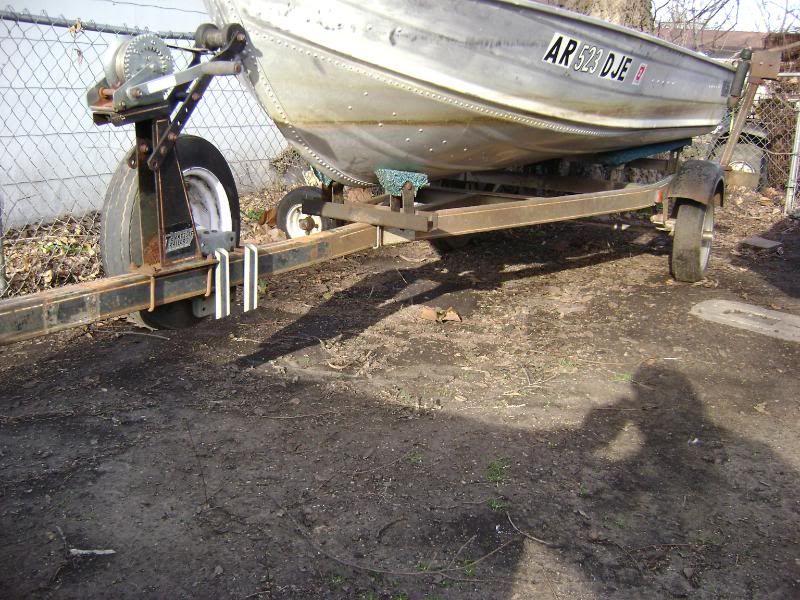 The boat is pretty heavy so I went on the hunt for another trailer. I found this for $60. Put new tires on it and relocated the winch farther forward and have a few other things to do to finish the trailer.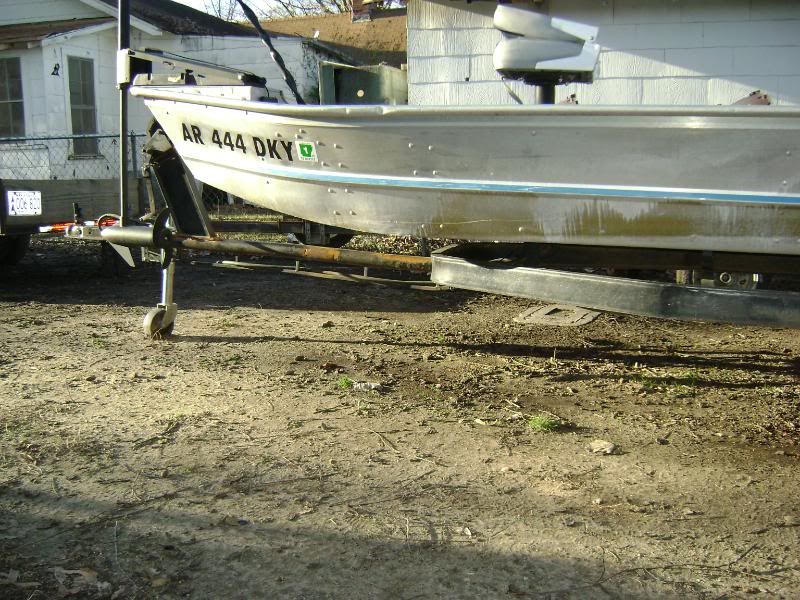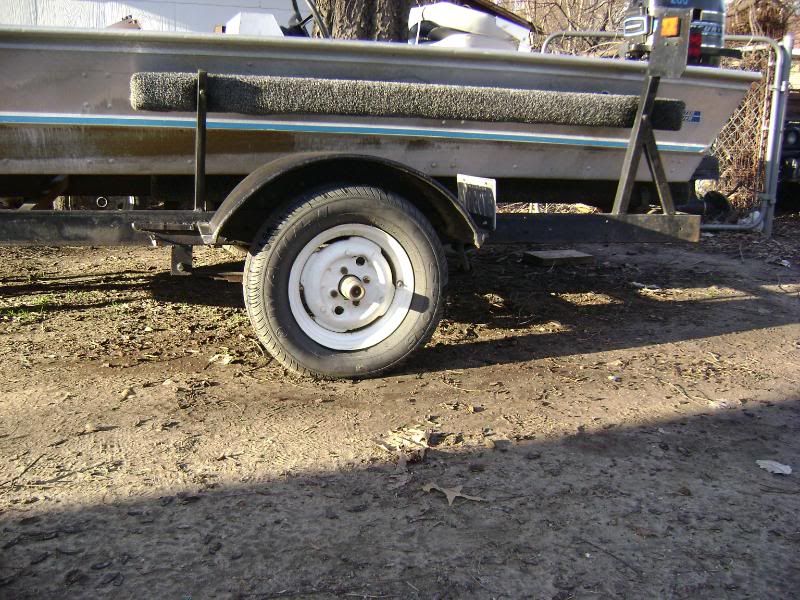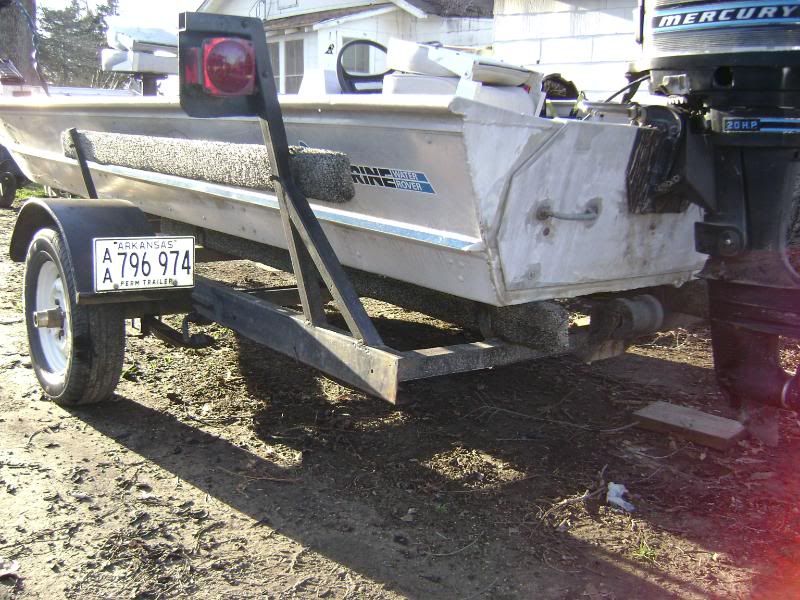 Here is the overall view as it sits right now. I'll post more pics of the interior and what my plans are in a little while.