well, after some research and lots of thinking, i decided to modify my tin boat to fish an electric only lake 10 minutes from home. the first option was to get another boat, but i couldnt find another tin boat anywhere. the second option was a fiberglass boat, i located one in my city, they wanted $500 for it with a trailer, but the boat is basically junk, its only virtue is that it still floats. but since im thinking about an electric only boat, this one was discarded for being too heavy.
so, the only reasonable option is to modify my old tin boat. this boat was my grandfather's, and i used it when i began fishing on this same lake, but with a 5 HP gas motor. now that the lake went to electric only, and that i also got a bassboat, the tin boat has been abandoned for some time. however, its time for a restoration, specially when the lake has been producing 4-5 lbers regularly from the bank, and not many people care to put a boat in it.
here is the boat as it sits today: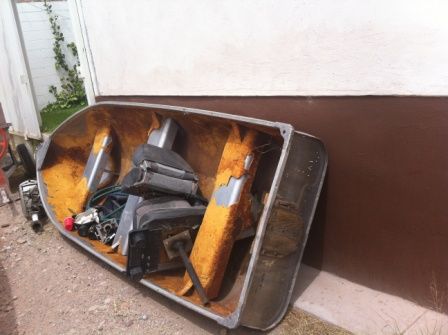 some years ago my father decided to spray polyurethane to the boat, since it would get too hot during the summer months, hot enough that you couldnt even sit on the benches. however, its already falling off, so, im going to remove it completely and add either carpet or wood to the benches.
the boat is one oar wide, and a paddle deep, so, its very unstable. i will have to add pontoons if i want to stand up, which i definitely want in order to fish out of it.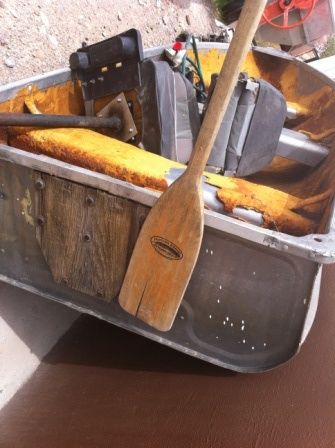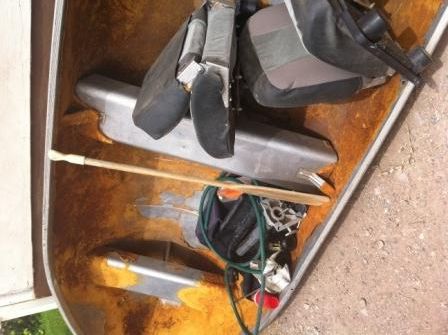 also, in the pics you can see the pedestal seats i have on the bassboat... i would like to install bases to the tin boat as well, to use the same seats. im debating over installing a small deck as low as it can go, just to have a flat platform to stand on, and install the bases on the deck. or maybe drilling a hole directly on the benches and install the seats there....
the first thing i will do is to build a trailer. today i already purchased the rims, axle, and leaf springs, everything new for $120. the boat is really light, i used to move it in a Ranger, but now that i no longer have the truck, i need to tow it...
so heres the list of TO DOs:
1) trailer
2) pontoons
3) install pedestal seats
4) install fish finder
meanwhile, remove the polyurethane and do something to the benches.
i will be posting the progress and ideas i have. unfortunately im starting with a very small boat, so i cant deck it or anything big, as it would be very unstable.
oh BTW i got a 25# TM for the transom, a friend sold it to me for $45. i will try it and if its not enough i can have another one of 30# for $60. i may even install both of them, but i think its not needed. the lake is so small, i have gone from one end to the other one in an inflatable kayak in 15 minutes...