I don't plan on doing a whole lot to my boat, but I've been having a great time cruising this site for ideas. As of now, my plan is to build a small deck on the front that is just big enough to hold the trolling motor, maybe stand on to take a leak, and have a cubby door for life jackets. I'm thinking I can cut a hole in the bench seats and add a plywood lid that hinges up with the seats still attached. Maybe a rod box down the side sometime down the road.
Still trying to decide what to do about flooring. I'm going to do a lot of muddy river fishing with a big old dog that loves to drag mud and hair in and out, so I'm leaning towards a Tuff coat type of flooring. When you hose off your carpet, doesn't it get mildew?
Here she is!
My first issue was this steel contraption bolted to the front. I couldn't imagine why they needed all that hardware. Each steel plate was 3/16" thick, and along with that steel pipe, it weighed a ton and had to go.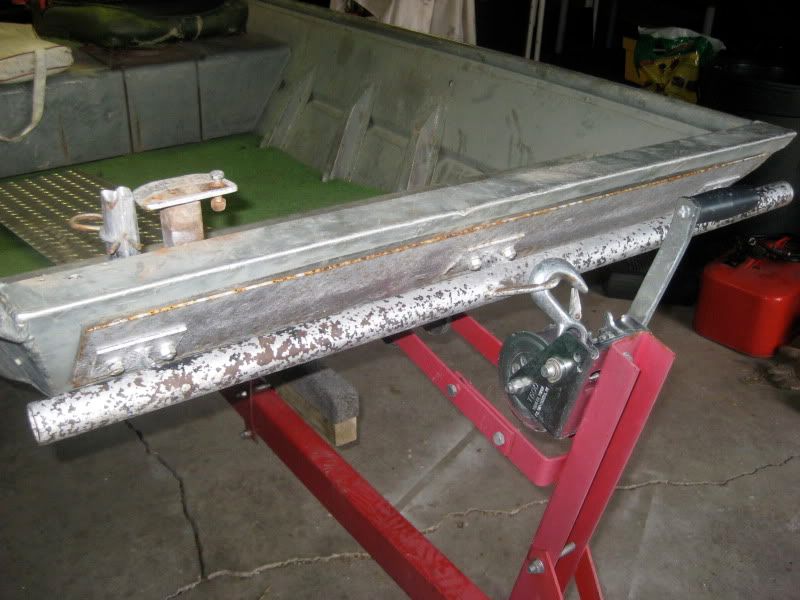 When I finally got it all off, I realized why it was there. Yuck! There are 3 big rips in the bow.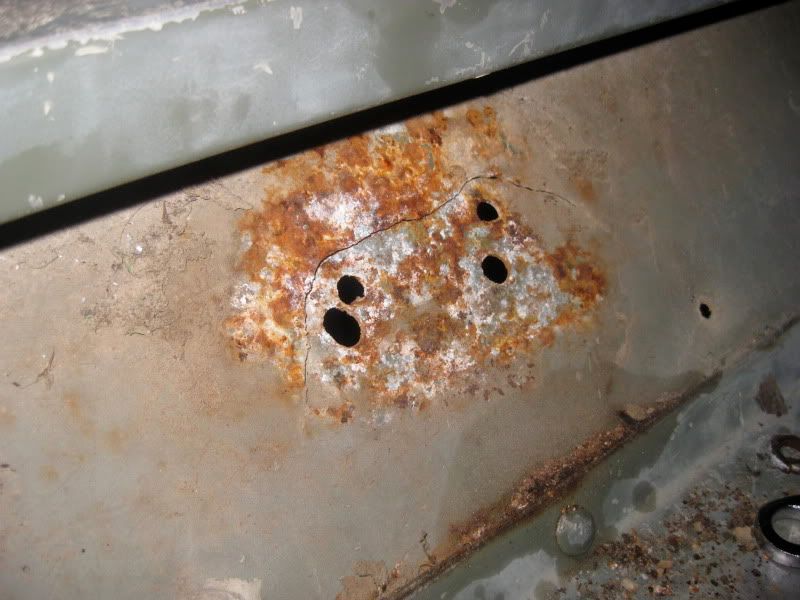 My temporary solution was to cut a couple strips of diamond plate that I had laying around that happened to be within an inch of what I needed. I want to bolt them on instead of riveting them so I can remove them easily again if I decide to try and have those rips repaired. If I do, what would be the best way to go about it?
Speaking of rips, here are a couple others I found after I got it home. The first one is up in the front seam of the hull, above the waterline. Is this something that could also be fixed easily? The 2nd one is more concerning to me as it is back by the transom on the gunwale.
Lastly, my motor. I didn't get a picture of the motor that came with the boat, but I believe it is a 1973 Johnson 9.5. It is doesn't like to idle low, and I've got some nice blisters on my hands from pulling the cord about 200 times this weekend. It also has a lot of trouble shifting into reverse, as sometimes it decides to just click at me. When I did get it running, it is SLOW. I mean, when its wide open, we are going walking speed. The prop is a little beat up, would a new one make a big difference?Not sure if that is how its supposed to run, but I'd like something that can get me up the river a little faster.
Thats where this guy comes in.
Its a 1983 Merc 25hp. The tag on the boat says she is rated for a 20hp, but I'm going to give it a try. I bought this motor for $500, but the interesting thing about it is that it may have been ran only once or twice. There was a little bit of gas sitting in the fuel filter, but under the hood it is spotless. An old guy my dad knew got moved into a nursing home, and his son found it in the basement and sold it to me. It's been sitting with a tarp over it for almost 25 years. His son thinks that he may have won it in a raffle or something, but never had a boat to put it on.
What do I need to do before I try to start this bad boy? I've been told that the water pump will probably need replaced, but how will I know? What else should I look for?
If the 25hp is too much motor for my boat, I figured I can at least get it running and make a nice little profit when I turn around and sell it.
Thanks for looking. Any input will be greatly appreciated!