New member here. I really enjoy this forum!
I purchased a 2000 Monark Knight 16 w/ a 2000 Merc 40 ELPT 4s last September. My son is twelve and ready for a new challenge - and I haven't had a boat in the water since he was born.
This Monark is a fully welded hull with aluminum deck. This is the hull without the side console: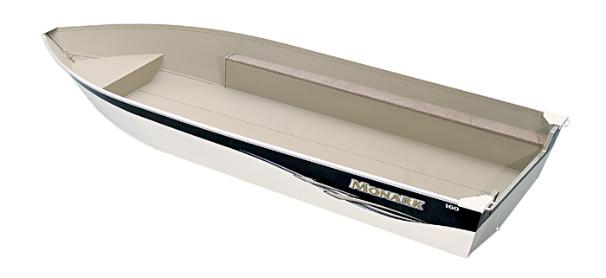 The engine has good provenance and maintenance records. Seemed to be in good shape and well maintained. Compression good, etc, etc. The hull OK good for its age no dents or dings and no evidence of corrosion. Anyway, we took it home.
We had limited time to take it out this fall [2X only] for a few hours each trip. On the first trip I noticed lots of spray coming over the transom. I kicked the poorly placed transducer up - but spray continued unless at cruise. The deck plate had a hole for the bilge pump hose - and water got into the bilge. So I wasn't suprised that the pump was cycling.
Didn't matter. I can fix that - but not until next spring.
Next trip out with 2 adults and my son hunting the last of Merrimack River Stripers the bilge float switch must have stuck. I noticed we were bow high and slow out of the hole. Switched bilge to manual and it pumped "a lot".
Uh Oh!
When we got home we flooded the hull so water was above the deck and discovered two leaks in the transom.
One on the port side:
And one on the starboard side:
So we stuck a camera under the deck plate and started taking pictures:
The port side leak was obviously a busted weld and stress related. Starboard side - who knows. Even the shop I brought it too wasn't sure - but thinks also stress.
Reading this forum I now now why! The trailer bunks end[ed] a few inches short of the transom............
Here's a list of things being done [or already done] in preparation to next year:
1. Transom repair [complete]
2. Pedestal seat removal, install bench seat with swivels [in progress]
3. Stern storage, seats, fuel tank and battery area [in progress]
4. Complete re-wire
5. Lowrance Elite 5 HDI install
6. Tach install
7. Dual bilge install
8. All lighting replaced with LED
9. Trailer bunks replaced w/ slippery stuff! and new LED
If the forum has interest I will update throughout the restoration